Georgia

Mtskheta-Mtianeti
Khevsureti
Khevi
Kazbek
Kakheti
Tusheti
Shida kartli
Kvemo kartli
Samtskhe-Javakheti
Imereti
Racha-Lechkhumi
Samegrelo
Svaneti
Guria
Adjara
Abkhazia
K H E V S U R E T I   R E G I O N

PLANNED PROTECTED AREA
LOCATION: Mtskheta-Mtianeti Region
DISTANCE: 150 km from Tbilisi to Shaili
BEST TIME TO VISIT: June - September
INFRASTRUCTURE: not developed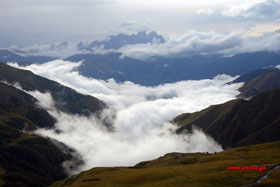 Khevsureti is a historical-ethnographic region in eastern Georgia. They are the branch of Kartvelian (Georgian) people located along both the northern (Pirikita khevsureti) and southern (Piraketa khevsureti) slopes of the Great Caucasus Mountains. Pirikita and Piraketa Khevsureti are connected by the passes of Arkhoti and Datvisjvari (2676m). The administration centre of Piraketa Khevsureti is -  Barisakho. The administration centre of Pirikita is – Shatili. These are two largest villages of Khevsureti.
The province borders with Chechnya and is included in the present day Dusheti district, Mtskheta-Mtianeti region, Georgia. The province covers 405.3 square miles (1050 km²), with a winter population of approximate 3,200 people.
Inhabitants are divided here into communities. Each has one gorge or village. Earlier, these communities had a constant discord and hostility with neighboring mountain inhabitants. Because of constant discord and hostility, the most reliable shelter for people of Khevsureti was a castle. The most famous castles on the territory of Khevsureti are Shatili and Mutso.
Historically, Georgian highlander communities enjoyed a degree of autonomy. Khevsurs never accepted local lords; they elected their leaders or khevisberi (elder) and council of elders and submitted themselves only to the monarch. They were exceptional warriors with traditional Georgian qualities of courage, open and honest, fraternity, independence and love of freedom, who were often promoted as royal bodyguards.
The religion of Khevsureti is considered to be Christianity but it has not been spread here properly, that is why the local people still have paganism customs.
Nowadays, tourism is developed in Khevsureti. Tourist are attracted by medieval castle-villages, towers and beautiful nature. Fabulous lakes of Abudelauri are really worth seeing. Tourism infrastructure is not well-developed yet. There is no mobile communication in most places, the roads are not repaired, there are no electricity in some villages. However, there are many comfortable family hotels. There is also a transport for a remote villages.
ACTIVITIES:
Horse riding
Mountaineering
Jeep tours
Cultural tour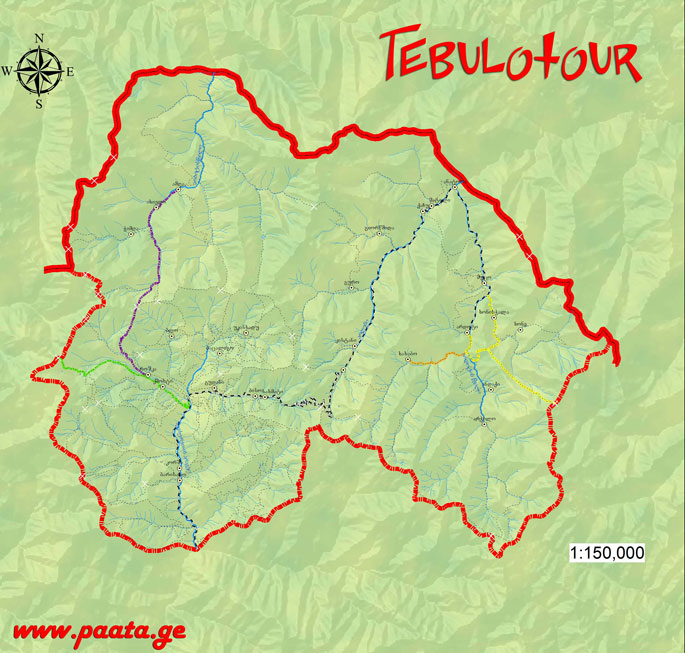 ROUTE 1
TOURIST ROUTE "MUTSO and SHATILI"
JEEP TOUR
Duration 2 days
Total route length: 340 km
Total route on foot: 6 km
Route Direction: Tbilisi – Mtskheta-Mtianeti region – Dusheti Area – Djinvali Reservoir  Khevsureti - Tbilisi
SIGHTSEENGS:  Jhinvali Reservoir, village Barisakho, Korsha museum, Datvis Jvari Pass, Lebaiskari, Kistani, Shatili, Anatori, Mutso, Ardoti village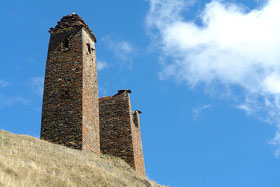 DAY 1
ROUTE DESCRIPTION: Tbilisi – Barisakho – Datvis Jvari Pass – Lebaiskari – Kistani – Shatili 
Departure early in the morning from Tbilisi.
The route to Khevsureti turns northeast off the Georgian Military Highway shortly before the Jhinvali Reservoir and runs up the Pshavis Aragvi valley to the village Barisakho (100 km form Tbilisi) – the largest village of the region, with a population of about 200. It contains the municipality hall, Khevsureti Boarding School, hospital, post office and other institutions.
At Korsha, 2 km past Barisakho there is a small, but interesting ethnographical Korsha museum of Khevsur life. The next village is Gudani, about 1 km up from the road, is a striking group of tower houses on  rock outcrop.  15 km form Korsha Museum you will get to two small neighbouring villages – Biso and Khakhmati.
After these villages your route runs over the high Datvis Jvari Pass (open from June to October) – the highest point on the route (2677 m above the sea level). Stop for picnic.
After passing the Datvis Jvari Pass you'll get to Lebaiskari and then to Kistani – small abandoned villages of unexceptional beauty. In 15 km from Kistani, there is the village Shatili – the old town, built between the 7th and 13th centuries, is an agglomeration to tall towers clinging together on a rocky outcrop to form a single fortress-like whole. Shatili is very close to the boarder of Chechnya, 1400 m above the sea level.
Supper in Shatili's local guesthouse.
Overnight in Shatili's local guesthouse or in the tower (with all necessary facilities).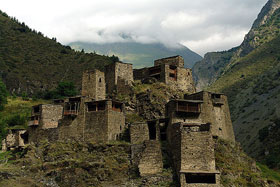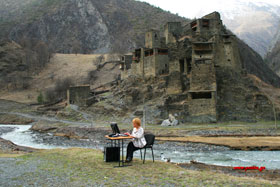 DAY 2
ROUTE DESCRIPTION: Shatili – Anatori – Mutso – Ardoti - Tbilisi
Early Breakfast at the local guesthouse.
Sightseeing tour around Shatili (for 2 hours).
Departure to Anatori (4 km from Shatili). This village is dead. Nobody lives here. You can see abandoned houses en route: during the cholera times, many people died here, and you can see human skulls here.
From Anatori in some 9 km there is a real highlight of the whole route – Mutso – 300 years old towers, is severe and imposing. It is apparently slated for renovation, but for now its decaying profile still stares darkly across the valley from its perch high on a mountain side. The towers are connected to each other by a warren of walls, roofs, stairs and ladders. Many of the restored towers offer access to the wide wooden balconies that look out over the valley.
Ardoti is 5 km further up the valley beyond Mutso. In this village lives only one family. You can find here the ruines of ancient church.
Picnic in Ardoti.
Departure to Tbilisi along the same route.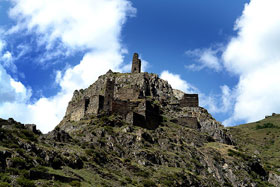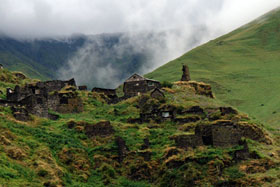 SPECIAL NOTES FOR VISITORS:
NOTE 1:THE MINIMUM NUMBER OF THE GROUP IS 2 PEOPLE
               THE MAXIMUM NUMBER OF THE GROUP IS 30 PEOPLE
NOTE 2: During your trip it is PROHIBITED:
carry any type of firearm or any type of weapon for hunting
collect plants, rock minerals or other fossils
catch, banish or cause any harm to animals
climb trees, rocks, caves or stand at the edge of gorges
cause any damage to historical monuments, collect remnants, undertake excavation without special permit
light fires, except in the specially designated places.
NOTE 4: How to dress while visiting Khevsureti? You are recommended to be casually dressed, suitable to the high
region; you should wear a hat, sporting trousers, boots and raincoat.