JEEP or HORSE RIDING TOUR
Duration: 4 days
Total route length: 600 km
Total route on foot: 3 km
Route Direction:Tbilisi – Tusheti – Tbilis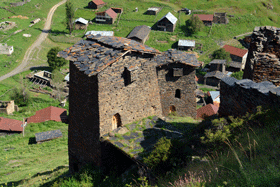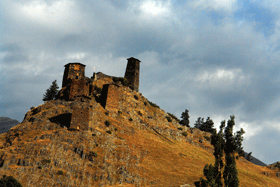 DAY 1

Route Direction:Tbilisi – Telavi – Alvani – Omalo – Keselo – Omalo
Deaprture early in the morning fom Tbilisi.
The route to Tusheti lays through Kakheti region.
Arival to Alvani (near Telavi).
Departure to Omalo.
Arrival to Omalo in the early evening hours.  Sightseeing tour around Omalo.
Omalo is the principle village in Tusheti. Omalo is the economic centre of Tusheti where the only airport, boarding school and hospital in the region are located. It lays between the Greater Caucasus Mountain Range and the Pirikiti Range of Tusheti. This is one of the holy places of the Tushetians. Omalo is divided into two parts: New and Old Omalo. The last one is called "Keselo". The castle of "Keselo" is a middle aged castle, which looks down to New Omalo.
Picnic on the open air.
Visit to Keselo - a small medieval fortress just above the village of Omalo. Keselo towers which originally totaled thirteen were constructed during the Mongol invasion of Georgia in 1230s. During the raid on Tush villages by the invader, people abandoned their villages and used towers as temporary shelters.
Departure to Omalo.
Check in at the hotel-guesthouse.
Dinner at the hotel. Free time.
Overnight in Omalo